Lampeas George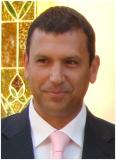 Rank: Professor
Phone:
+30 2610 969498
Fax:
+30 2610 997190
Email:
Curriculum Vitae
Name:
GEORGE LABEAS
Place and Date of Birth:
Athens, Greece, 9/5/1966
Nationality:
Greek
Marital Status:
Married, 2 children
Corrent Professional Status:
Associate Professor at University of Patras
Laboratory of Technology & Strength of Materials
Department of Mechanical Engineering and Aeronautics
School of Engineering
University of Patras
26500 Patras, Greece
Phone number : +2610-969-405
Fax number : +2610-997-190
E-mail : labeas@mech.upatras.gr
EDUCATION
1989
Diploma in Mechanical Engineering, Dept of Mechanical Engineering & Aeronautics, University of Patras, Greece
1995
Ph.D. in Mechanical Engineering, Dept of Mechanical Engineering & Aeronautics, University of Patras, Greece
Dissertation :
Stress, stability and vibration analysis of composite plates by semi-analytical method
Languages :
English, French
PARTICIPATION IN PROFESSIONAL AND SCIENTIFIC SOCIETIES
Technical Chamber of Greece, Pan-Hellenic Society of Electrical and Mechanical Engineers, Hellenic Metallurgical Society, European Aeronautics Science Network – EASN
| | |
| --- | --- |
| 1989-1995: | Post-graduate student of the Laboratory of Technology and Strength of Materials, Mechanical and Aeronautics Engineering Dept., University of Patras, doctoral thesis in the field of stress analysis of light weight structures |
| 1993-1995: | Scientific collaboration at Dornier Luftfahrt A.G. in Friedrischafen-Germany |
| 1996-1999: | Scientific collaboration with the Institute of Structures and Advanced Materials, Patras, Greece |
| 1999-2003: | Research and Production Engineer at ELVAL S.A. (Hellenic Aluminium Industry) |
| 2003-today: | Assistant Professor, Mechanical and Aeronautics Engineering Dept., University of Patras. |
RESEARCH ACTIVITIES
Research Interests:

Development of methodologies for Stress / Strain Analysis of Light Weight structures, by analytical and numerical methods (FEM, TMM); damage analysis of metallic and composite structural aircraft components
Numerical simulation of the impact behaviour of aircraft structures under Multiside / Widespread fatigue damage
Stress and failure analysis of ageing aircraft structure
Numerical stress and damage analysis of critical structural details, such as bolted joints, bonded joints and repairs, structural reinforcements; application of multi-scale methodologies.

Participation in the European Funded Research Projects

Participation in the following European and Projects (BRITE, EURAM, Aeronautics)

Development of Techniques for Processing of Large Organic Sheets, Thermoplastic Pre-pregs, Ribbons and Foils', BRITE/EURAM (1989-91).
Civil Aircraft Protection Against Ice – CAPRI', BRITE / AERONAUTICS (1990--92).
'Stress and Stability Analysis of Thin Plates of Fiber Reinforced Composite Material', Bilateral Project with RWTH Aachen - Germany (1991-94).
'Advanced Aluminium precision Casting for integrally stiffened components - ADVACAST' (1992-94).
Crashworthiness for commercial aircraft – CRASH', BRITE / AERONAUTICS (1993-1995).
'Process Integrated Cost Analysis Tool – PICANT', BRITE/EURAM (1993-1995).
'Structural Maintenance of Aging Aircraft – SMAAC', BRITE/AERONAUTICS(1996-1999).
'Design for Crash Survivability – CRASURV', BRITE/AERONAUTICS (1996-1999).
'Efficient Design And Verification of Composite Structures – EDAVCOS', BRITE / AERONAUTICS (1996-1999).
'Integrated design environment for simulation and numerical analysis of production processes 'D-SIGN' BRITE / AERONAUTICS (1999-2002).
'Bolted Joints on Composite Aircraft Structures – BOJCAS' GROWTH-GRD1-10216 (1999-2002).
'Economical and safe design of pressure vessels applying new modern steels – ECOPRES', (2000-2002).
'Crashworthiness of Aircraft for High Velocity Impact - CRAHVI' (GRD-2000-25242) ( 2001-2004)
'Development of short distance Welding concepts for Airframes – WELAIR' (2003-2006)
'Economic Advanced Shaping Processes for Integral Structures – ECOSHAPE' (2002- 2005)
'Development of Innovative for Advanced Manufacturing of Thermoplastics – DINAMIT' (2002- 2006)
'Technologies and Techniques for New Maintenance Concepts – TATEM' (Integrated Project IP) ( 2004-2007)
AEROnautical application of wrought MAGnesium – AEROMAG' (2005-2009)
'Advanced Low Cost Aircraft Structures – ALCAS' (PARTNERS: Integrated Project IP) (2005-2010)
'A COncurrent approach to Manufacturing induced PArt distortion in aerospace ComponenTs – COMPACT' (2005-2009)
'Innovative fatigue & DAmage TOleraNce methods for the application of new structural concepts – DATON' ( 2005-2008)
'Non-linear MUltiSCAale Analysis of Large Aero-Structures – MUSCA' (2005-2009)
'Improve and Assess Repair Capability of Aircraft Structures IARCAS' (2004-2007)
'Materials, Process and CAE tools developments for Pre-impregnated Carbon Binder yarn
preform composites PRECARBI' (2008-2010)
'Modular Joints for Aircraft Composite Structures MOJO' (2006-2009)
'COst Effective INtegral Metallic Structures COINS' (2006-2009)
'Cost-Effective Small AiRcraft CEASAR' (2006-2010)
'More Affordable Aircraft Structure Lifecycle through eXtended, Integrated, & Mature
nUmerical Sizing – MAΑXIMUS' (2009-2013)
'Industrialization of Manufacturing Technologies for Composite Profiles for Aerospace
Applications - IMAC-PRO' (2008-2011)
'Advanced Dynamic Validations using Integrated Simulation and Experimentation –
ADVISE' (2009-2012)
'Cost Effective Reinforcement of Fastener Areas in Composites – CERFAC' (2009-2013)
'Extended Non-Destructive Testing of Composite Bonds –ENCOMB' (2009-2013)
'SEnsor on StructuAl Health Monitoring - SESAMO' (European Defence Agency) (2010-2012)
'HElicopter fuselage Crack MoniToring and prognosis through on-board sensOR
network –HECTOR' (European Defence Agency) (2009-2011)
'Smart Intelligent Aircraft Structures –SARISTU' (2011-2016)
'Strain Monitoring of Composite Stiffened Panels using sensors – STRAINMON' (2012-2013)
'Boltless assembling Of Primary Aerospace Composite Structures –BOPCAS' (2012-2016)
Simulation Based Solutions for Industrial Manufacture of Large Infusion Composite Parts -
INFUCOMP' (2008-2013)
'Innovative Manufacturing of Ti Sheet Parts for Cost-Efficiency and Flexibility –INMA' (2010-2014)
'Smart Aircraft in Emergency Situations -SΜAES' (2011-2014)
'Innovative advanced lightweight materials for the next generation of environmentally-friendly
electric vehicles – EVOLUTION' (2012-2016)
'Validation of Numerical Engineering Simulations: Standardisation Actions –VANESSA' (2012-2014)
'GREen Turboprop Experimental Laminar Flow Wind Tunnel Testing –GRETEL' (2016-2018)
'Improving the crashworthiness of composite transportation structures —
ICONIC'(2016-2019)
OTHER SCIENTIFIC AND RESEARCH ACTIVITIES
Reviewer in the following Scientific Journals: Journal of Materials Processing Technology (Elsevier), Fatigue and Fracture of Engineering Materials and Structures (Blackwell), Composites part B: Engineering (Elsevier), Strain (Elsevier), Science and Technology of Welding and Joining (Maney publishing), Materials and Design – Elsevier, Journal of Composite Materials.
PUBLICATIONS
Chapters in Books
Sp. Pantelakis and G. Labeas, 'Constant and variable amplitude fatigue damage of laminated fibrous composites' invited contribution in Failure Analysis of Industrial Composite Materials, p. 247-298, McGraw-Hill, 1999.
Th. Kermanidis and G. Labeas, 'Behaviour of composite structures under impact loading', invited contribution in Failure Analysis of Industrial Composite Materials, p. 363-400, McGraw-Hill, 1999.
G. Labeas, Prediction of damage propagation and failure of composite structures (without testing), in'Virtual Testing and Predictive Modeling', B. Farahmand (ed.), DOI 10.1007/978-0-387-95924-5 11 Springer Science and Business Media, LLC, 2009.
EXTENDED CURRICULUM VITAE
Teaching
Undergraduate courses