Mechanical Behavior of Materials
Experimental characterization of the mechanical behavior of metallic and composite materials under static, quasi-static and dynamic loads is one of the most important research sectors of LTSM. The specific activities of LTSM in this area are the following:
Mechanical behavior under quasi-static loads (tension, compression, bending, torsion, buckling, fracture toughness, etc)
Fatigue
Derivation of S-N curves and fatigue crack-growth curves,

Effect of overloads and load interaction on the fatigue crack growth,

Effect of alloy ingredients on fatigue crack growth, and

Effect of microstructure on fracture behavior.
High-strain rate mechanical tests (split Hopkinson bars)
Non-destructive testing and metallographic characterization
Hardness test,
Ultrasound inspection,
Metallographic characterization,
Fractographic analysis, and
Corrosion characterization.
High temperature testing
Creep tests, and
Testing in environmental chamber.
Corrosion tests
Exposure to atmospheric corrosion,
Tests with caustic spray,
Split-up under tension and corrosion.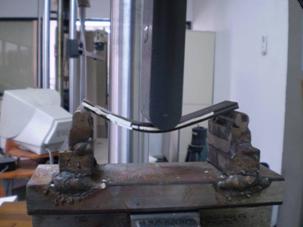 3-point bending test in a composite bonded joint
Split Hopkinson tests
| | |
| --- | --- |
| | |
| Effect of corrosion on the mechanical properties of metallic bars used as concrete reinforcements | C-scan image of an adhesively bonded joint between composite plates |