Impact and Crashworthiness
LTSM has the knowledge and the equipment for studying impact and crashworthiness of materials and structures under impact loads of different types. Impact tests as well as impact FE simulations are conducted. Two of LTSM's activities in this area are:
Low- and high-velocity impact, and
Debris impact in aircraft wings.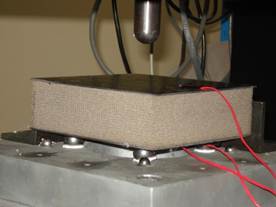 Impact test in a composite sandwich panel.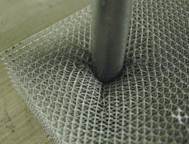 Impact test in a cellular solid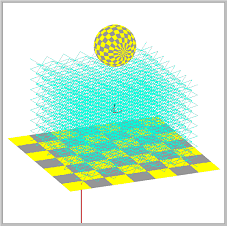 FE simulation of impact in a cellular solid.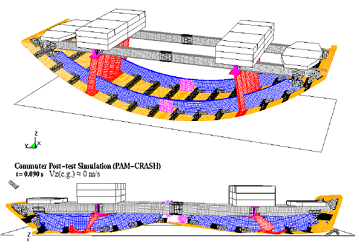 Simulation of sudden landing.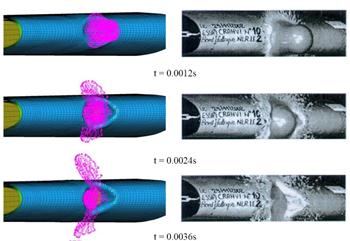 Simulation of high-velocity impact.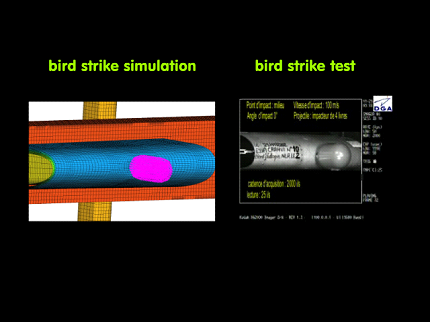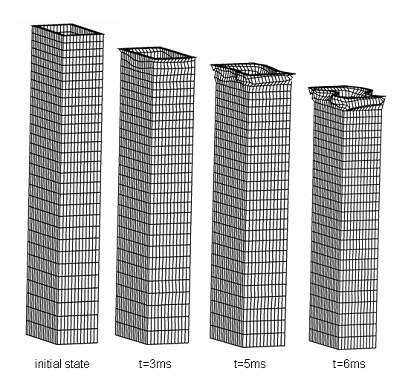 Crash of a composite beam.
Related Research Projects
CRASHWORTHINESS FOR COMMERCIAL AIRCRAFT (CRASH), COMMERCIAL AIRCRAFT - DESIGN FOR CRASHSURVIVABILITY (CRASURV) , CRAHVI: CRASHWORTHINESS OF AIRCRAFT FOR HIGH VELOCITY IMPACT, CELPACT: CELLULAR STRUCTURES FOR IMPACT PERFORMANCE, ADVISE: ADVANCED DYNAMIC VALIDATIONS USING INTEGRATED SIMULATION AND EXPERIMAENTATION, SMAES: SMART AIRCRAFT IN EMERGENCY SITUATIONS